Pick up the packages (3) «» + submit news
Czesław Mnich has prepared a gallery - The Phantom, a SMPTE synchronizer and MIDI interface from 1990 (Dr.T's Music Software - USA). The set was able to synchronize the sequence program (in the SMPTE standard) with an audio or video tape, and also cooperate with external MIDI software, e.g. Bars & Pipes.

Added: 2023-11-24 11:00, Author: redakcja, Category: Hardware Comments »
If you work in graphics and create pixel art that uses small colour palettes, you need to check out Amiga Graphics Archive. Daniel Kürsten provides graphics from various Amiga productions, including programs, games, logos and scenes. Many graphics published there show you the colour palette used (under the cursor).

Added: 2023-11-22 11:09, Author: st, Category: Games Comments »
Amiga TV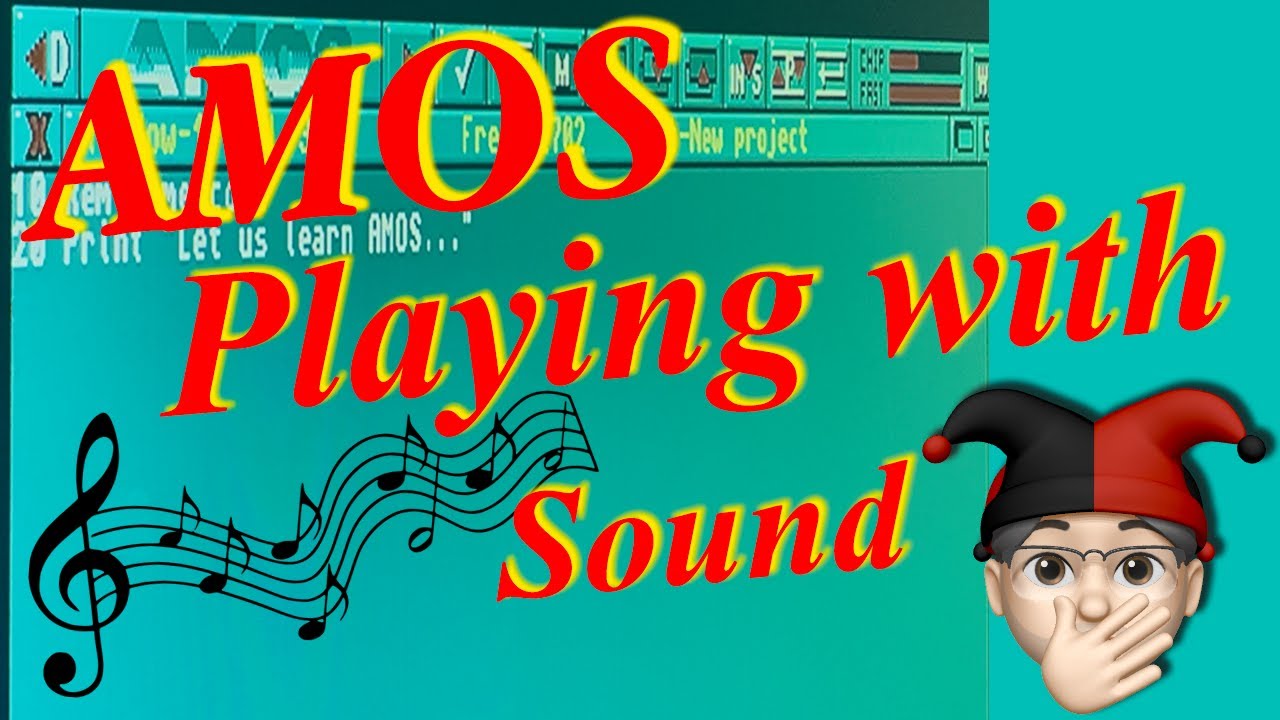 Using AMOS to Play Music
Every day we present here a Amiga related video! If you have recorded something new, please contact us!
see all videos »
Several tools have appeared that can be used as add-ons under the Amiga system. For MOS and OS4 we have an updated set of widgets (you can attach colorful sticky notes) to the WB/Ambient desktop - RNOWidgets 1.6. For OS4 there is an application that compares the contents of selected directories - CompareDirs V1.12 .

Added: 2023-11-21 12:38, Author: st, Category: Software Comments »
Plananarama 2.1

The new version of Plananarama (a plugin for Hollywood that allows you to run scripts on Amiga without a graphics card) includes a new feature that makes it easier to create applications that work on both RTG and planar screens.
At the start of November, Walkero posted an update on the Amigans forum website regarding the progress of porting the WebKit engine to AmigaOS 4: The port has been at 54% completion for some time, but with the help of Kas1e, the issue was identified and resolved. As a result, the WebCore library was successfully compiled up to 99%. I have begun creating a simple window to display one website. Though it may seem small, it is an important step forward. You can track the progress on GitHub using this link: https://github.com/AmigaLabs/webkitty.

Added: 2023-11-19 11:32, Author: st, Category: Software Comments »
Mesa 3D is a library of graphics functions available with source code, which is an open implementation of OpenGL. Its releases were once relevant also for AmigaOS, but currently, we can only follow the library's further development. Mesa version 23.3 is being prepared for release in a week or two.

Added: 2023-11-18 16:38, Author: st, Category: Development Comments »
Task Force is a turn-based team shooter created by Mark Sheeky and released as "shareware" in the early 1990s. Here you will find a detailed description of how this game was designed. The game was developed in 68k assembly language with 4549 lines of code. Mark included 160 kB of graphics, 100 kB of samples, and two pieces of music, which he produced himself.

Added: 2023-11-17 10:19, Author: st, Category: Development Comments »
Game creation engines are available in new versions - RedPill 0.9.28 and Scorpion Engine 2023.3. For RedPill there is also a tutorial. SE has introductory video that we have attached to this news.

Added: 2023-11-16 21:37, Author: st, Category: Development Comments »
Dietmar Planitzer is leading a project to write "Apollo" - an experimental operating system for Amiga 3000/4000 (hardware with 68030 processor - Atari TT and Falcon are also planned). This system is supposed to be multitasking, but instead of threads it uses "virtual processors" and queues. Virtual processors can be moved between applications by Apollo as needed. Applications use dispatch queues to tell Apollo what they want to execute in parallel.

Added: 2023-11-16 17:47, Author: st, Category: Software Comments »
SDDDE

SDDDE is a small 3D engine project for the "bare" Amiga 1200 in C/C++ from Rst7/CBSIE. This is a valuable example (for anyone trying their hand at programming) because its source code is available on GitHub servers.
Identify-library 43.2

Identify-library is a Amiga shared library that assists in identifying various system parameters, such as the Amiga model, CPU, system version, RAM, chipset, as well as card names, alerts, and called functions.
AmigaOS MUI C++ wrapper

Rafał Zabdyr (TDolphin) writes a C++ wrapper for MUI. The code is publicly available on GitHub. Not all MUI attribute classes and methods are implemented yet - work in progress. In another public repository you can also see C++ code examples for AmigaOS/MorphOS.
You can read interview with musician Chris Huelsbeck (Turrican, Jim Power, Apidya, R-Type) and text by Andrew Braybrook (Rainbow Islands, Paradroid 90, Realms, Fire and Ice, Uridium 2 ). He writes about his initial experience with programming, as well as his later 16-bit phase, during which he developed the "AMP" engine.

Added: 2023-10-31 09:14, Author: st, Category: Journalism Comments »
The name "Voyager" is often linked to Bartek Dramczyk, the musician and editor, or to the Amiga web browser from VaporWare. However, space probes launched many years ago, before the creation of the first Amiga, also bear this name. NASA engineers routinely update the firmware that runs these devices beyond the solar system.

Added: 2023-10-29 17:04, Author: st, Category: Events Comments »
Procedural levels in AMOS

Rob Smith, from the RobSmithDev channel, demonstrates procedural level generation technique in the attached video. He creates a game in AMOS, where many levels are produced. The video shows how to accelerate the algorithm and create a basic maze.
"X-Rotator" is a popular effect used in many old classic Amiga demos. On the blog of Slummi from the Spaceballs group you can " rel="nofollow" class="external">find a description of how it was prepared in the 4k intro of Candiru, which was released in spring 2023 at the Revision Party.

Added: 2023-10-29 16:02, Author: st, Category: Development Comments »
During the Amiga 38 event, Claude Schwarz and Michał Schulz received the first prize ("Hardware" category) from the Amiga community - the "Amiga38 Community Award" for the PiStorm and Emu68 project. This was announced by @Claude1079 on social media.

Added: 2023-10-13 20:18, Author: st, Category: Events Comments »
SDL 2.28.4 Release Candidate 1

Juha "capehill" Niemimaki released the first RC 2.28.4 version of the SDL multimedia library for Amiga on GitHub two days ago. SDL 2 requires AmigaOS 4.1 Final Edition and optionally OpenGL ES 2.0.
Recently there have been many instructional videos available on the Internet about programming for the Amiga. We have a "live stream" recording of using the Scorpion engine, a similar recording of programming in Blitz Basic, and regular material from Yawning Angel on his channel, where much of the videos are devoted to programming in the AMOS language.

Added: 2023-10-11 19:47, Author: st, Category: Development Comments »
For one of the most popular source-code editors, VSC (Visual Studio Code, not to be confused with Visual Studio - it's another Microsoft project), there are several "Amiga" plug-ins available to support programming. Recently updated ones include a plugin for C/C++ (up to version 1.74), a plugin for Blitz Basic 2 (version 0.9.1) and Amiga Assembly plugin (version 1.8.3).

Added: 2023-10-10 19:01, Author: st, Category: Development Comments »
Sami Vehmaa has released the source code of his games The Oregon Trail, Mission2Mars and Visual Novel. The games are written in AmiBlitz3. In the archive you can also find the code for the ReelDeck audio player, the QDockLE dock and the Wrapper program. Everything works with AHI and RTG. The price for the source codes is $3 or more.

Added: 2023-10-10 10:37, Author: st, Category: Software Comments »
Amiga Game Framework is a library designed for 2D game and multimedia programming on AmigaOS 4. It offers a user-friendly and intuitive C API for 2D graphics, playing sounds, reading user input, and more.

Added: 2023-09-12 17:55, Author: st, Category: Software Comments »
Search Engine for AmigaOS NDK3.2

Aris created a search engine for development documentation (autodoc files) that come with the NDK for AmigaOS 3.2. He shared the reasons behind it and the process he used on his blog.
Scene Archetypes

Carl Svensson in his short article described all the heroes needed to create a demoscene group/production. The topic was also discussed in the intro Scene Archetypes (Istari).
On the Forgotten Computer channel you will see a review of IMP3 - Amiga module player. The video contains information about the IMP3 program itself, about Impbox (a hardware add-on for IMP3), and an interview with the developer Paweł "juen" Nowak - the creator of IMP3.

Added: 2023-09-04 13:09, Author: st, Category: Journalism Comments »
RedPill 0.9.24

We already have version 0.9.24 of the game development engine for the Amiga classic - RedPill. The full list of changes can be found below, the most interesting seems to be the doubling of the number of global variables to 64 and many optimisations.
Raster Master is a sprite, icon and map editor developed on GitHub for Windows 10/11 (64 bit). The program can generate images for programming projects using GCC, vbcc, Amiga C, or e.g. LBM/PBM from the DOS XLIB library, as well as JavaScript. Full list of saved formats in the documentation.

Added: 2023-08-23 18:20, Author: st, Category: Software Comments »
Developers of 3D games or applications for the MorphOS system should consider testing their products with the new version of TinyGL.library. Beta versions of this library have been released by Bigfoot, who is requesting bug reports on the MorphZone forum. Currently, this library only supports Radeons from Evergreen and Northern Islands. Support for R600 and R700-based Radeons will be added later.

Added: 2023-08-20 09:21, Author: st, Category: Software Comments »
Apple iOS 17 beta 6

The release of iOS 17 is scheduled for next month. Currently, Apple is providing developers with beta versions, with the current version being iOS 17 beta 6. During the annual Worldwide Developers Conference in June, Apple introduced a new version of the iOS system, which includes new features to be added to the iPhone. These include StandBy, Live Voicemail, and AirDrop updates.
Slack is a messaging platform that development teams use to communicate. Users can work together and organize their own projects However, The Verge reported that a significant redesign of this program will be launched soon. According to the report, they will soon launch the most extensive redesign to date, which will change both the appearance and layout of the application.

Added: 2023-08-19 09:44, Author: st, Category: Software Comments »
You can find inspiration and solutions for creating front-end code on the CodePen website. It is also a place where you can store your HTML/CSS/JS work. We regularly receive a newsletter from this site. We are always looking for artistic and demoscene references. We have added the more interesting ones to this news.

Added: 2023-08-18 13:25, Author: st, Category: Development Comments »
Sami Vehmaa wants to encourage more people to create Amiga games with RTG. He suggests to use his ready-made templates for AmiBlitz 3. Version 0.77 was released yesterday - the price of the templates is $3. In addition, the source code of the following games is available: Atri, Battleship SEAHAWK, Dungeon Escape, Last Space Raider, Sky Tower and Slenderman.

Added: 2023-08-16 19:55, Author: st, Category: Development Comments »
AF update: software and calendar section

On the pages of the Amiga Future magazine, find an updated software section and a new section with a calendar of Amiga events.
The DevCon at AmiWest 2023 will traditionally be hosted by Steven Solie, who will report on the progress of the work on ExecSG for AmigaOS 4. In addition, writing code for various ami-systems will be discussed. If you want to participate in this part of the event, write to inf0[at]amiwest dot net.

Added: 2023-08-12 18:17, Author: st, Category: Events Comments »
Developer "S0Y" (responsible for the CD32 port of Temptations) took a look at the SNES game Super Earth Defense Force. He made a proof of concept for the Amiga. He found out that a similar production on the Amiga would require a machine with AGA 020/14 MHz and 1300 Kb RAM (672 Chip + 628 Fast). We would get 25 fps, and an additional advantage would be CD audio tracks on the Amiga CD32 console.

Added: 2023-08-03 16:21, Author: st, Category: Software Comments »
Rafał Zabdyr has released the first beta version of graphical user interface for the version management Git. Git Desktop is written in C++ and has a graphical interface in MUI. MorphOS 3.x with SDK and GIt is required.

Added: 2023-07-18 10:43, Author: st, Category: Development Comments »
To celebrate the release of The Legend of Zelda: Tears of the Kingdom, the Game Maker's Toolkit channel released a video showing how the world of Open Air was created. This short video seems to be a must for every game developer, including simple Amiga productions.

Added: 2023-07-17 08:19, Author: st, Category: Journalism Comments »
You can register now if you plan a trip to this year's AmiWest (12-15 October at the Holiday Inn Express Cal Expo, 2224 Auburn Blvd, Sacramento, CA 95821, USA). Ticket pick-up will be at the event. More information about the event is available here. As usual, there will be A-Eon and A1222+ board. There will be a lottery. AmiKit and the Alinea store have sponsored the prizes. The keynote speaker in 2023 will be Garry Hare (the person who took over Amiga Inc. right after Bill McEwen).

Added: 2023-07-15 14:33, Author: st, Category: Events Comments »
E-VO 3.6.1

E-VO is an Amiga E compiler that adds new features, bug fixes and optimisations. Currently version 3.6.1 is available on GitHub, the full list of changes can be found below.
The new version of the Scorpion game development engine includes support for AND/OR conditions. There is also a new optional "sliced blitting mode" for the Amiga to reduce the memory consumption of animations. The MegaDrive version has a parallax mode with a height of 8 pixels.

Added: 2023-07-12 14:02, Author: st, Category: Development Comments »
Calypsi C and Amiga

Calypsi is a series of C compilers and development tools. The latest version 4.4 introduces support for the Motorola 68000 processor, and a library project dedicated to the Amiga has been launched on GitHub.
Using the gcc compiler, make and configure scripts, it's easy to cross compile: just call configure with --target=architecture, where architecture is the target architecture. In addition, Docker is currently being used to prepare the environment for such work. The required image can be easily downloaded and run on virtually any modern machine. There is still one element missing - the constant updating of the Amiga NDK and SDK.

Added: 2023-07-05 10:48, Author: st, Category: Development Comments »
WebkitOnDocker (OS4)

Walkero created a development environment using Docker to compile the Webkit engine for AmigaOS 4. WebkitOnDocker is available on GitHub.
Tequila 1.1

Juha "capehill" Niemimaki's is working on a small program for AmigaOS 4 called e Tequila. The application displays tasks running in the system and information about CPU usage, assigned priorities, stack and PID number.
We have the first builds of SDL 2.28.0 for dla AmigaOS 4 and MorphOS. This is the current stable release of this library. From this version on, SDL 2.0 will get bugfix updates and the SDL team will focus on SDL 3.0 and all new features will appear there. At the same time, sdl2-compat will be introduced. This will allow SDL 2.0 applications to run on the SDL 3.0 runtime in the future.

Added: 2023-06-28 11:19, Author: st, Category: Software Comments »
Hollywood Compile: interface for OS3, OS4, MOS, and AROS that uses the Hollywood command to compile Hollywood scripts. The script can be loaded or dragged to the GUI, then just select the platform and click Create Executable, the executables will be saved in the same location where the script resides, with the extensions: -68k, -os4, -mos and -aros.

Added: 2023-05-16 09:19, Author: st, Category: Software Comments »
During the "I/O" presentation, Google showed Studio Bot, an AI assistant that Android developers can use to write and debug code. Studio Bot becomes part of Android Studio (Google's integrated development environment for Android developers). The assistant is only available to US developers for now and is in a "very early stage".

Added: 2023-05-11 08:29, Author: st, Category: Software Comments »
DevPack is a collection of software created by Dimitris Panokostas and Philipp Lonke. The package is intended for Amiga users who want to develop their own software under AmigaOS. Version 1.2 adds AmigaRebol V2, examples for Blitz Basic, EVO version 3.5.1, NDK download link for OS 3.2R4 and M68k vbcc compiler (+ includes). The package is free and available in LZX and HDF versions.

Added: 2023-05-09 07:48, Author: st, Category: Software Comments »
James "Ancient" Brown's design is a small circuit board with an RP2040 microcontroller. This computer is connected to a miniature OLED screen. James put the whole thing into miniature mould. He filled the mould with transparent resin and a small LEGO brick was created. Power comes from the contacts at the bottom, similar to the LEGO motors. In the attached video you can see how the game Doom works in such a brick (this game probably works on everything).

Added: 2023-05-08 11:01, Author: st, Category: Hardware Comments »
Andrea "afxgroup" Palmate is working on a clib2 library for AmigaOS 4. This fork of the official clib2/adtools should add all the missing clib2 features. They are difficult to add under AmigaOS 3.x where the ixemul library is used (the most complete POSIX compliant library we have). The current beta version 9 of clib2 is still a pre-release. It adds POSIX aio* functions with minor restrictions and fixes shared object libraries (requires new elf.library).

Added: 2023-05-07 08:39, Author: st, Category: Software Comments »
Dan Thoresen has launched the Amiga Tool Jam, a competition for new Amiga tools in the following categories:

Utility,
Tool,
Commodity,
Most Useless Tool,
Other.

Projects can be submitted until 31 October and must be completely new applications written for this contest and running on classic Amiga with AmigaOS 3.x. Prizes are AmiKit 12 and PIStorm32 Lite for A1200.

Added: 2023-05-06 10:54, Author: st, Category: Events Comments »
SDL2 2.26.5 for MorphOS

BeWorld has updated the SDL2 libraries (IMAGE, MIXER, TTF, NET and GFX) for MorphOS. LHA includes SDK files as well. MorphOS version 3.17 and the latest beta version of the TinyGL library are required.
Issue 162 (May/June 2023) of the Amiga Future magazine is now available for purchase. You will find articles about Boxx, Settle World, Ring around the World, Maria Renard's Revenge, Geos Quest, Hollywood 10, AmigaOS 3.2.2, Prelude ZII "recreated 2022", AmiFox and a demoscene corner. Older issues of Amiga Future are also available. The last issue is 138 from 2019.

Added: 2023-05-05 08:53, Posted by: st, Category: Magazines Comments »

Author: Andreas Magerl
RedPill 0.9.19

In version 0.9.18 of the classic Amiga game development engine, support for multiple languages has been added - if more than one language is used, a selection screen will appear. You can read more about the changes in this version and new 0.9.19 in the ReadMe file and on Aminet, where you can download the LHA archive with the program.
The famous American programmer Robert Martin invented the SOLID principles. He is famous for his approach to clean code and is also a contributor to the development of the agile development manifesto. You can read about how to improve object-oriented programming in Python in the article SOLID Principles: Improve Object-Oriented Design in Python on the Real Python website.

Added: 2023-05-04 07:55, Author: st, Category: Development Comments »
RastPort has released the complete design of the KA12 MIDI interface under the Creative Commons licence in a variant that allows commercial use. The files include a complete KiCAD design (schematic and PCB), board Gerber files and a BOM. Files are available from the product page and GitHub repository.

Added: 2023-05-03 08:59, Author: st, Category: Hardware Comments »
On the CodePen website you can see how to create a simple "wormhole" in the style of old Amiga demos. It uses HTML-defined SVG, CSS and JavaScript vector graphics. The author of this work is Tma Miller, we have attached it to this news.

Added: 2023-05-02 14:57, Author: st, Category: Software Comments »
E-VO 3.6.0

E-VO is a new Amiga E compiler. It comes with many new features, bug fixes and optimisations. Two weeks ago version 3.6.0 was released on GitHub. The full list of changes can be found below.
The BSD Socket Extension by John Bintz allows you to use the network in programs written in the AMOS Professional language. Originally, the author started his project back in 1998. The attached video shows this extension in detail. The AQUABYSS game uses it.

Added: 2023-05-02 12:38, Author: st, Category: Software Comments »
The m68k assembler code editor is available online here. The application is based on the SvelteKit framework and the Rust programming language.The project has syntax highlighting, autocomplete and code execution with the ability to go through subsequent "breakpoints". Documentation is included. It is intended to be an integrated IDE for the learning of this assembler language. Creators can be supported via PayPal or Ko-fi.

Added: 2023-05-02 12:00, Author: st, Category: Software Comments »
As reported by The Register, Microsoft is starting to rewrite core Windows libraries using the more memory-safe Rust programming language. The primary goal at the moment is to convert some of the internal C++ datatypes to their Rust equivalents.

Added: 2023-05-02 11:46, Posted by: st, Category: Software Comments »

Author: Ender
As reported by Michael Larabel on the Phoronix website, Linus Torvalds (Finnish programmer, creator of the Linux kernel and Git version control system) has not had time to write new, original code for the Linux kernel in recent years. Currently, he works mainly with the development team, reviewing other people's code before committing it to the kernel tree. However, he did manage to write some new code for Linux 6.4.

Added: 2023-05-02 11:27, Author: st, Category: Linux Comments »
Updated LUA-MUI for MorphOS

Stefan "Kronos" Kleinheinrich has updated his solution LUA-MUI, which allows MorphOS to use the LUA scripting language to make calls specific to the operating system, graphical user interface, libraries and functions. More information about the latest version can be found on MorphZone.
New version of "The Scorpion Engine" adds support for the Mega Drive - most of the Amiga demo stuff will now work on this console as well. The Scorpion project editor works under Windows, graphics are imported as PNG files. Amiga formats (mod, 8svx, anim5) are used to import and create sounds, music and animations. The project can be supported on Patreon.

Added: 2023-05-01 22:54, Author: st, Category: Software Comments »
Airsoft Softwair has released version 2.0 of the hURL plugin for Hollywood. This plugin allows you to create scripts using all kinds of network protocols with SSL support. The new version adds 50 new features to curl, supports curl 8.0, curl's Mime and URL interfaces.

Added: 2023-05-01 21:57, Author: st, Category: Software Comments »
Mad Hackers Lab informed about working on a new power supply for Amiga based on USB-C: PowerShark is a next-generation power converter for the Amiga line of computers - A500, A600 and A1200. It provides stable, high quality power, perfect for continuous long-term operation of even the most expanded configurations. Utilizing any 12V-capable USB-C power supply for the first stage conversion, PowerShark allows users to tap into a vast array of affordable and readily available "power bricks" for their Amiga system.

Added: 2023-04-30 19:53, Posted by: st, Category: Hardware Comments »

Author: Laubzega
On the Amiga Future website, you can read the full 137 issue of this magazine. We have also added to the news a gallery presenting the anniversary issue 160 purchased by us in a CD edition. The AF editors have also released full versions of the following games for free: Evil Garden, Mission Andromeda, Ntimed i Pacific Islands.

Added: 2023-04-01 13:19, Posted by: st, Category: Magazines Comments »

Author: Andreas Magerl
For a few days now, a new version of the most advanced Amiga emulation package has been available. AmiKit 12 brings many new features and improvements. The update is available for free via Live Update for Windows/Mac/Linux or Raspberry Pi subscribers. You can see "the twelve in action" on the video attached to the news. Full list of changes here.

Added: 2023-04-01 12:56, Author: st, Category: Emulation Comments »
After months of intensive work, Simone Bevilacqua released a new Ring Around The World game for the classic Amiga. It is a short, top-down open-world adventure where the protagonist wakes up on the shores of an unknown world with only two memories - one is about drowning in the sea.

Added: 2023-03-15 14:37, Posted by: st, Category: Games Comments »

Author: Simone Bevilacqua
The 161 issue of the Amiga Future magazine is available for sale - we wrote about it here (in the issue of e.g. Black Dawn Technomage, Triton USB Card and Commotron Turbo 2000 Super Wireless Gamepad description). In the APC&TCP store you can also order an Amiga37 DVD - the set includes two DVDs (including 5 hours of recordings) documenting the Amiga37 event.

Added: 2023-03-15 11:51, Posted by: st, Category: Magazines Comments »

Author: Andreas Magerl
Niestety w tej chwili nie działa pobieranie danych ze strony Amiga Podcast
Image Album